For full information check out our training website: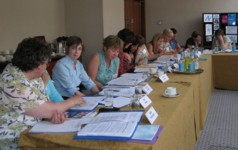 Who do we train?
Who does the training?
How do I book a place on a course?
How will this benefit me?
Comments from previous participants
We train parents, carers, volunteers and professionals.
Who does the training?
Our trainer is Mrs Eirwen Grenfell-Essam. She has been a qualified teacher for 34 years. She has 12 years experience as a SENCO in a school with high levels of SEN. She is the lead advocate for Network 81 and regularly supports parents/carers at SENDIST / Exclusion tribunals. Perhaps as important is that she is a parent of two daughters (now adults) with SEN.
Network 81 currently offers a range of courses. For more information you can visit our
training website
.
Courses can covers a range of individual modules which include:
Education Law including the SEN and Disability Act 2001
The SEN Code of Practice 2001
School procedures and governors responsibilities
Statutory Assessment and Statementing process
Annual Reviews
Disability Discrimination Act 1995 and 2005
SEN and Disability Tribunal (SENDIST)
Practical Case Studies
Contact the Network 81 office on:
0845 077 4055
or e-mail us at:
admin@network81.org.uk
The courses aim to give individuals a solid understanding of the laws covering how SEN is dealt with within the education system. Therefore individuals get a better concept of how they can help children gain the most from the system. With this training individuals should also be able to advise others on how to get the best out of the system for their child. We expect that some individuals will go on to support parents who have disputes with a school and if necessary advise and advocate for parents at SENDIST. This may be done as Befrienders for Network 81.
We are currently investigating Open College Networks accreditation. All our courses will carry credits which can be exchanged for Certificates and Diplomas.
"Wonderful, learnt more than expected. Want to learn more."
"Excellent course. Probably the most useful short course I've ever attended."